Dear readers, yes this is a true story. The funny part is that I have been so focused on my clients' investment properties that I only realized the results for my own portfolio just this month, after 4 years! The realization came as I was filling out my real estate schedule to get approved for an 11.6 million dollar loan with my partner for a 116 unit multi family property— a crazy advancement that I had been dreaming of for the last 3 years. The move to this point was difficult. I felt that I constantly was butting up against a glass ceiling until now.
To be fair, the initial $100k came from my father as a gift. I know I am incredibly lucky to have a father who can provide me such an opportunity, and for a long time that made me invalidate my own successes because it felt like of course I should be successful with such a start. However, now that I see what I did with the money and also have the experience to see how other people have squandered the same opportunities, I finally feel that I earned what I made from it and not to be ashamed that I received an easier start. In the end, I still learned this business from scratch, with no education in it, just by watching and doing.
How Did I Do It?
My first purchase was in May 2016 of two houses from an investor who I had worked with to provide due diligence materials for the auction. They were two 3 bedroom, 2 bathroom properties both on Wood Knoll Dr in Jonesboro, GA for $92,000 total. At the time this was expensive 😂! They needed a few thousand dollars of work, but not too much. I bought them together in cash, crediting my real estate commision into that (as a licensed agent) coming to a total of $90,656.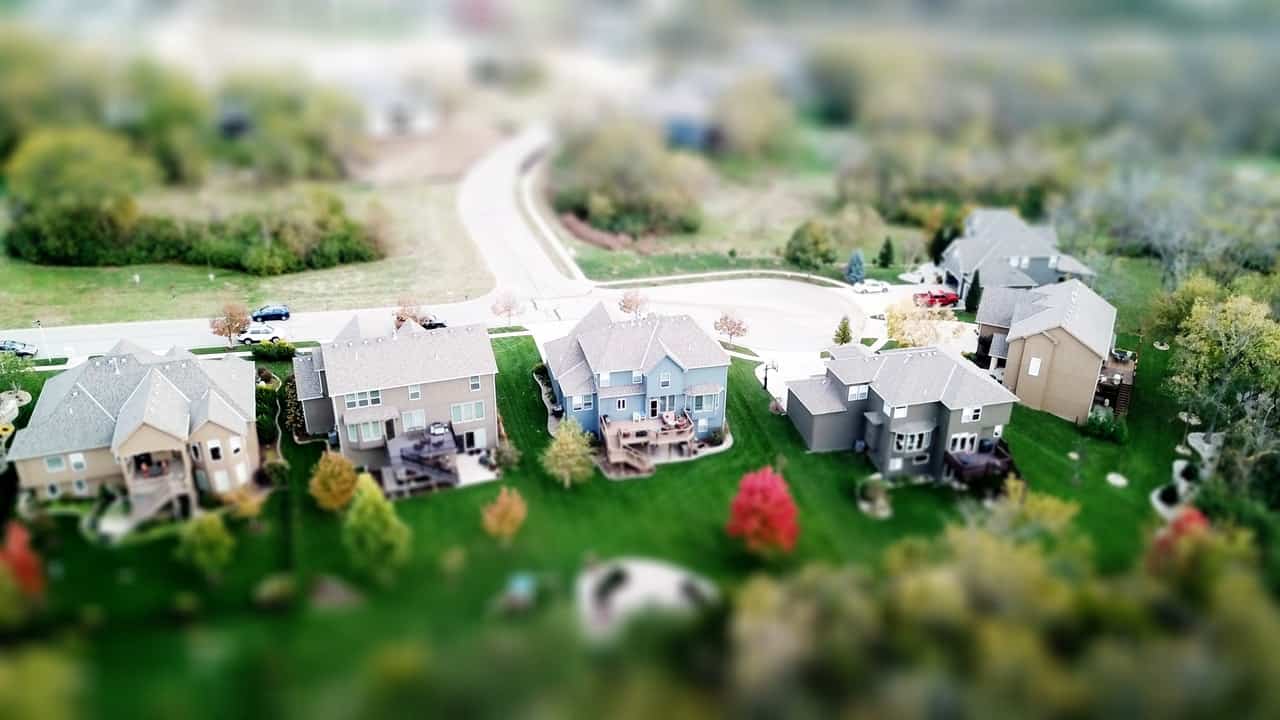 Next, I sold one of the houses in June 2017 for $70,000 (It appraised for 75k), in effect regaining most of my investment plus earning about $24,000 in one month.
Then, I purchased Pineglen in November 2016, a 3 bed, 1.5 bath home in Riverdale, GA for $55,000 but with a mortgage, so I only put down $18,235. I bought it renter occupied, and the same renter still lives there now.
At this time, I had already made money in two months, and had about $52,000 left to reinvest. So I purchased my next property, a 2 bed townhome in Hampton, GA for $55k with a mortgage. Therefore, only putting down about $6,000!
Then, I financed the remaining property on Wood Knoll Dr that I had originally bought in cash in April 2017 for a loan amount of $51k and received about $19k back from the value increasing.
Finally, I purchased a 2 bed townhome in the tax auction for about $13-15k. This one was renter occupied already, but I had to wait a year and a half before taking full possession and paying an extra $1000 to my attorney to do so. Even though there is a high HOA fee there of $220 a month, the property is now worth about $58k and the rent is $925/month meaning a return of 33% on cash flow, plus the property is worth 4.5 times as much!
Now I am left with about $49,000 in cash that goes to my savings account! Plus the gross cash flow from 2017-2021 equals $199,988, or about $120k net income including mortgage interest payments.

Update February 2021
Now four years later, the value of these four houses has gone up to a total of $454,396, with a current total investment of $40,235 in cash, and a total loan amount of $97,971, equaling an IRR of $144.47%!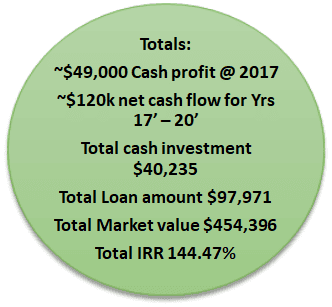 But amazingly, the benefits don't stop there. Thanks to these properties and others that I acquired later on, my equity in conjunction with my partner's equity allows us to make a huge transition in my career, from 3rd party or minority partner to sponsorship.
So all in all, $100,000 or any amount of money can be very powerful in achieving your goals if used right.
Update March 2023
I am excited to show you how far $100,000 can go!
In January 2020, I purchased my 6th home for $80,000 in cash already rented.
In 2022, I refinanced 4 of the homes together, appraised for $706,000 which is an appreciation gain of $556,765 on my capital invested, and a $471,000 increase on market value from original purchase price. That's a 67% increase in value!
I decided to be cautious and refinance for 55% of market value at a 4.2% interest rate, taking out $388,300 in cash from the refinance, and paying about $2700 per month for mortgage, taxes, and insurance. I am still making $3,000 per month as net income, therefore making a 24% levered return!
In addition, the townhome, that I paid only $16,000 for, is now worth about $100,000!
All in all a total market gain of $571,000 for a total value of $810,000.
In addition to the houses, I had purchased a commercial office building in 2017 for $80,000, after COVID, we no longer had a use for the whole building, so I sold it on a lease purchase for $210,000! A gain of $130,000, bringing my total gain to $940,000 plus the cash out income I received from my previous refi in 2017 about 965k from only $100,000.
Since 2021, I started to invest in a client's GP syndications for office and multifamily and started to syndicate multifamily assets myself in 2022, hurdling me into the next level of experience. Now, I plan to revolutionize the property management industry with all the knowledge I gained from the last 11 years!
Sincerely,
Emma